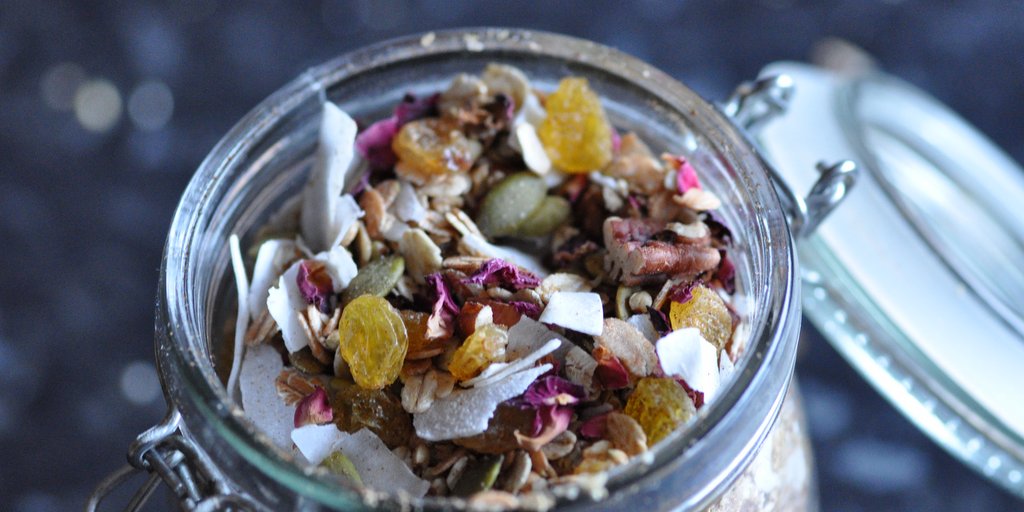 Things have been pretty hectic in my life for the past few weeks. Usually when life is full on, healthy eating goes out the window… And in my experience this is when we could to with nutritious foods the most. So quick, easy meals are the way to go. It just requires a tad of preparation. Believe me, your body (and mind) will thank you for the effort you've made. Healthy Body – Healthy Mind and all that…
Two things spring to mind when I think about muesli or granola. One is that it was pretty much as standard breakfast in our house when growing up. Except for a stint were we had microwaved cheese toasties and drinking chocolate for breakfast… Uh! I'm not sure how my health concious mother allowed this one to happen… However we rarely had cereal. The second thing is that I have always struggled with getting out of bed in the mornings. Once I get up I'm fine. It's the getting up part that's the struggle. When you like to savour every single spare minute in bed, you need a quick breakfast option. So what could be easier than pouring some milk or yoghurt into a bowl and top it with some muesli? No effort required. The only time consuming bit is to chew and swallow. These days, if I am really under pressure, I have even cut out this step and reach for a smoothie instead. The key is to make sure what goes into your bowl is real nourishment. So you, and your body, can deal with anything the day will throw at you. If you take the time to prepare a batch of your own home made muesli you can be certain that what goes into your breakfast bowl will set you up well for the day. If stress is part of your day, your body and mind (!) will thank you for all those stress-busting B-vitamins, from the spelt and oat flakes.
I only recently got back into making my own muesli again. Even though I must admit I prefer warming foods in the winter, it is nice to have an alternative to porridge sometimes. It is seriously easy to make your own and the variations are enless. My batches varies according to mood, what's in the pantry and the seasons. In this recipe I went with some warming spices, to make the muesli feel seasonal. If you, like me, enjoy eating with all your senses, then you will hopefully like the addition of rose petals too.
Sunday mornings, If I have the day off, are sacred. These few precious hours are dedicated to rest and revival. This morning I indulged with a cup of hot chocolate. Chocolate and rose petals. Self-love indeed! You will find the recipe for this reviving hot drink on The First Mess. I substituted with local honey and added some cardamom.
Have a great Sunday and be good to yourself. You are worth it.
Floral Muesli With A Taste of Winter
Makes 1 large jar
1 cup rolled oats – I prefer jumbo oats for better texture
1 cup quinoa flakes
1 cup spelt flakes
1/2 cup buckwheat groats
1/2 cup pecan nuts, chopped
1/4 cup pumpkin seeds
5 tbsp coconut oil, melted
1 1/2 tsp ground cinnamon
1 tsp ground cardamom
1/2 tsp ground cloves – don't over do this spice as it can easily over power everything else
Dry mix – to be added after roasting:
1/4 cup coconut flakes
1/4 cup golden rasins
4 tbsp hulled hemp seeds
4 tbsp dried rose petals
Heat oven to 175°C. Add oats, spelt, quinoa flakes, pecan nuts and pumpkin seeds into a large bowl. Melt the coconut oil to the ingredients and stir until evenly coated. Add in all the spices and mix well. Spread the mixture on a lined baking tray. Toast the grain/nut mix for 10-15 min until lightly golden and your kitchen fills of a wonderful smell of spices. Stir it a few times to prevent burning and assure even toasting.
Remove the toasted mixture from the oven and allow it to cool completely before adding in the remaining ingredients. Store in an airtight container or a Kilner jar, in a cool dry place. Your muesli will keep for a few weeks. Serve it with your choice of milk or yoghurt. Or as a topping on your favourite smoothie!