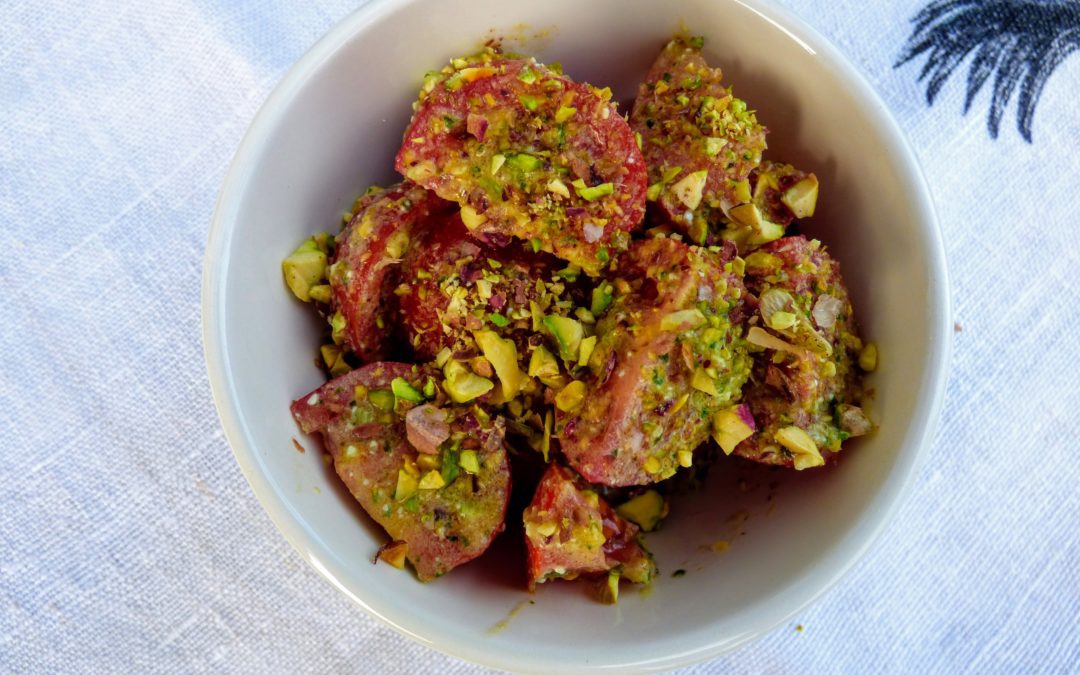 This week I have the honour and pleasure of sharing a simple and delicious summer salad, created by Joanna Bourke, from The Chopping Board with us all.
I got to know Joanna through Instagram a few years back and really resonated with her no nonsense approach to food, as well as how we should eat and enjoy it. I particularly liked this blog post about the ebb and flow of life, and how letting our eating follow a similar rhythm is really nourishing.
I hope you will enjoy our conversation and learning a little bit more about Joanna and the great work she does!
I shared this purple smoothie over on Joanna's blog.
Can you tell us something about yourself and your work?
My family have always enjoyed food and I've been cooking since I was young. My Dad had a fast-food business in Dublin and I worked there through my teens and college years.  In 2014 I was working in Finance in San Francisco and started a blog of family recipes that I had in a notebook. In those days, my blog was called Some Like It Hot, after our takeaway! I loved sharing recipes and getting into food photography, and it was a great connection to home. Shortly after, I left my job in Finance and came home to Ireland to do the cookery course at Ballymaloe Cookery School. Since then I've been doing event and retreat catering in Ireland and abroad.
I'm curious about your journey to become an entrepreneur and a chef? Can you please tell us how you came to do the work you do now?
After cookery school, I took a career break and tried lots of different things to get a range of experience in the food industry, I worked with caterers and took on my own catering gigs , I got work experience in kitchens and did a month of private cooking in France. Getting blisters on my hand after a morning chopping veggies in a busy kitchen was a sign I wasn't cut out to be a restaurant chef!
In the last year I've been cooking at yoga and women's business retreats in Wicklow, Cotswolds, Provence and Normandy. I've been lucky to travel to new places, meet interesting people and cook in some beautiful kitchens. At retreats, people often gravitate to the kitchen for a glass of wine and a chat about what's for dinner. It's the heart of a house, and my favourite place to be. And of course, I love it when people really enjoy my cooking. I'm still blogging, but the blog is now called The Chopping Board – good things start at the chopping board!
How would you describe your food philosophy?
I wouldn't call it a philosophy so much as an absolute enjoyment of everything food-related – I love cooking and eating out, looking at food on Instagram, and I'm usually thinking about my next meal.
At Ballymaloe we were completely spoiled with fresh vegetables and herbs picked from their farm every morning, the best organic and local meat produce, and fish caught locally in Ballycotton. Back in the real world, it's a little harder (and expensive) to access this kind of produce. Farmer's markets are great to get a sense of what's in season and get the fresh vegetables growing in your area. Regardless of where you buy your food, a little bit of love and care in cooking can bring anything to life.  Great basics for cooking – butter, olive oil, sea salt, spices and fresh herbs can really bring out flavour.
Generally I think a little of what you fancy does you good. I usually cook pretty good meals for myself, but when I don't feel like it my favourite takeaway is a Base pizza with a Peroni.
Which 5 ingredients will one find in your pantry? 
Oats to make granola and smoothies, honey also for granola and salad dressings,  Heinz tomato ketchup, Bachelor baked beans. The spices I use the most would be cumin and paprika.
Do you have an all time favorite recipe you keep coming back to?
This last winter I was doing a lot of one-tray roasts where I would add whatever I had to a roasting tin, and add some olive oil, garlic, salt and pepper. Potatoes, onions or leeks, chorizo, carrots and peas all work really well together. Roast a a high heat for about 40 minutes, or until vegetables are golden and crisp.
Tell us something about the recipe you are sharing today! Why this particular recipe?
This pesto came about when I forgot to bring basil pesto to an event I was cooking at. I didn't have any basil and parmesan with me, but I did have parsley and feta, hey ho.  I then added pistachios for some crunch. I've added it to tomatoes here for a summer salad but it also works great with pasta.
Tomato Salad with Feta & Parsley
Serves 2
4 tomatoes, diced
30g flat leaf parsley (1 bag)
100g feta
70g pistachios
2 garlic cloves, chopped
2 tbsp olive oil
Juice of half lemon
To make the pesto, add the parsley, feta, olive oil, lemon juice, pistachios to a blender and blend until smooth.
 Taste, and add salt and pepper, although the feta will bring it's own saltiness.  
Mix with tomatoes and serve on it's own, or with pasta or scrambled eggs.
Joanna Bourke is a Ballymaloe-trained cook, cooking wholesome, nourishing food at events and retreats in Ireland and abroad.  www.thechoppingboard.ie