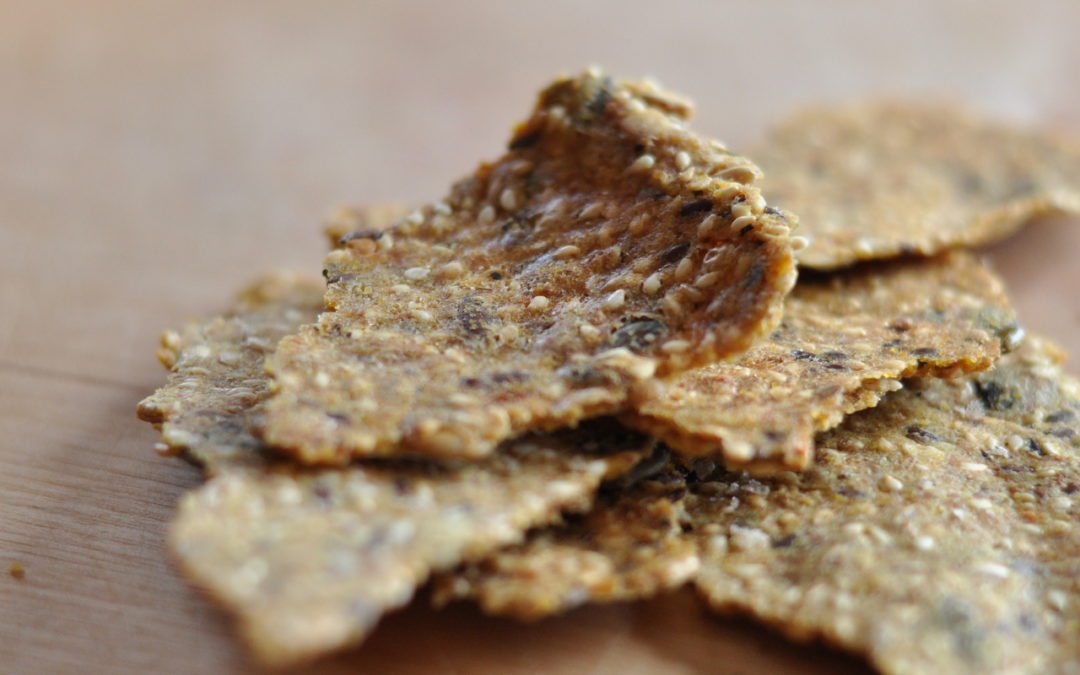 You will love this recipe I promise! It has been years since I came across this recipe on the internet and though there are lots of different seed crackers recipes on the internet these days, this one is a guaranteed winner.
Every single talk / food tasting session / cooking demo that I have done, since finding this recipe all those years ago, I've brought these little crackers with me, and they are ALWAYS a winner. The best thing is that they  are so easy to make and though you may think that some ingredients sound a little exotic, rest assured that any healthfood store will carry them.
After the latest talk I did locally, I said to the participants that I'd actually post a video on how to make them. So I did, and here it is. Not that it is complicated, but I really wanted to show you the technique to use when spreading the dough out on the baking tray. Because it is kind of a vital step, and if you try using a rolling pin directly on top of the dough, it is a surefire way to invite disaster…!
One thing to note with this recipe is that it is not gluten free,  since it is using spelt flour. I have messed around with various trials of using other flours in its place and keeping the maize flour. Feel free to do the same if you want to try. I mostly liked using chickpeas (beasan) flour. Do note too that if you change out the spelt flour you will need to reduce the amount of olive oil and adjust the amount of hot water also. Too much and you'll end up with a kind of porridge, and if not enough liquid you'll have something that's too dry and impossible to spread out. Though, my suggestion is that you start off on the drier side and then keep adding more liquid until you get the right consistency.
But there is really no need to change it up (if having spelt is fine by your body) they really are super yum! I have countless taste testers to attest to that.
Simple Seed Crackers
Makes enough for lots of snacking…
3/4 cup wholemeal spelt flour
3/4 cup milled corn flour
1/2 cup sunflower seeds
1/4 cupl whole flaxseeds
1/2 cup sesame seeds 
1/4 cup pumpkin seeds
A pinch of sea salt
1/4 cup olive oil 
1 cup boiling water
1/2 tsp peri peri spice mix – optional but delicicious ( or try a mix of thyme / rosemary / oregano)
 
Mix all dry ingredients in a big bowl. Add the olive oil and mix well. Add the boiling water to the mix and stir well so all ingredients are well mixed together and wet. Let the "dough" sit for a few minutes to allow it to cool down a little and to swell.
Line two baking trays with greasproof paper. The dough will give you enough for about one large tray and one small tray. Put about ½ – 2/3 of the mix on to the tray. Put another sheet of paper on top of dough. With your hands or with a rolling pin, flatten the mix out to a thin layer, evenly over the tray. If it floats out over the edges, cut away and use on your second tray. The layer should be even in thickness and fairly thin, for best result.
Remove top paper and sprinkle some sea salt over the top.
Bake in the oven at 150°C for one hour. Slightly less in a fan oven. The bread should be golden when done. Let it cool in the oven with the oven door slightly ajar.
Break into pieces and enjoy!
Oh and if you enjoy the video and find it useful, please let me know and there can me more of them coming your way!
Here is the recipe video for the Simple Seed Crackers!