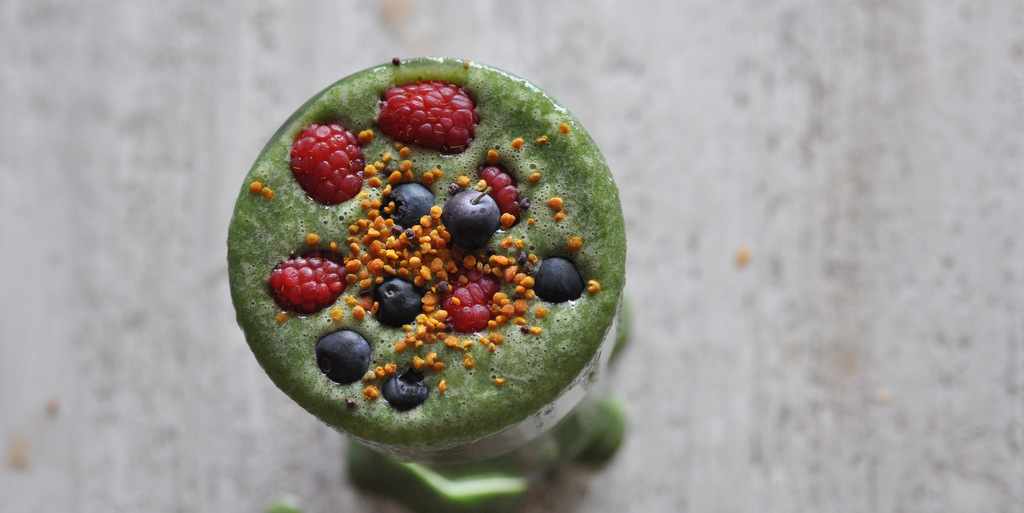 Smoothies never gets old, do they? I know I've already shared a good few inventions here and here's another one! Plus there's more recipe ideas in the pipeline. I also recently bought Green Kitchen Stories' latest recipe book, on yes you guessed it – Smoothies!
It is a beautiful book with lots of great tips and ideas for creating the tastiest and satisfying combinations you can imagine. I picked it up because it was on special offer and one can simply never have to many cookbooks for inspiration. Plus David Frenkiel's food photography is just so stunning. I never tire of just looking at all the beautiful images on their blog or in their books. It was actually when I bought their app about four years ago that I got really inspired to take my then website and redesign it so that I could get more into food blogging. And here we are some 3 years later, having seen that idea into fruition.
I tend to eat with my eyes a lot of the time, hence why having plenty of colour on my plate is both aesthetically important as well as pleasing to me. But colourful plant foods are also full of important phyto-nutrients, (plant compounds) that are vital for our optimal health. Some of them we do know what they do and how they work in the body, yet others are there still to be discovered.
Sometimes the discussion of which "diet" is the best one gets tiring, though when it really comes down to it nobody can argue with the fact that eating a large quantity of fruit and vegetables daily is vital for our overall health and wellbeing.
It's not only the physiological benefits, in this recent review study where they looked at sampled food diaries over three years, from over 12 000 Australians the researches concluded that;
"Increased fruit and vegetable consumption was predictive of increased happiness, life satisfaction, and well-being. Citizens could be shown evidence that "happiness" gains from healthy eating can occur quickly and many years before enhanced physical health."
So regardless what "dietary style" camp or community one belongs to, it is pretty clear that vegetables and plants should form the baseline of ones diet, if health and even happiness is where you want to be!
Before we get to the recipe I would like to give you a couple of my smoothie making strategies that I've picked up over the years. At this point, I've made countless combinations and tried things that worked and things that didn't so to short cut you on your own exploratory journey here's some insights!
Try adding some kind of healthy fats + protein source to make sure that you have a smoothie that will keep you fueled for awhile. My personal favourites are avocado or full fat coconut milk + pea / rice / hemp protein
Don't blend green and red fruit and vegetables together, unless you don't mind eating brown looking sludge… of course. Keeping it within the same colour theme makes a much more appealing looking concoction. Though of course there's nothing to say that your brown slurry mix will taste better than it looks, however if you plan on Instagramming it, I would certainly keep the colour on point!
Use a variety of liquids as blending options. Most "old" and traditional smoothie recipes are a blend of natural yoghurt and fruit, but for everybody who's limiting dairy intake, or anyone else who wants to increase their variety in general, there's actually a whole host of different liquids that you can use! My standard one is usually (shop bought) almond milk or diluted coconut milk. But I've also experimented with  cold herbal teas (raspberry leaf and hibiscus in particular) or coconut water and they all make a really smoothie. Since finally investing in a nutmilk bag, I've been making a lots of different types of "milks". From almond, to sesame to flax seed milk. It's so easy! I tend to make two portions with my Nutribullet at the time.
A note here; remember that since you are making a fresh blend with no preservatives it won't keep that long in the fridge so don't make too much. You'll find instructions on how to make your own nut or seed milk here.
So why calling this a Rainbow Smoothie then? Well because it has all the colours of the rainbow of course!
Rainbow Smoothie
Serves 1
1/2 cantaloupe melon, cut into chunks
3 fresh mint leaves
1 small banana
1/2 small avocado
1/4 tsp spirulina powder – optional
1/2 inch of fresh ginger, peeled
a handful of fresh green leaves like kale or spinach, washed
1 tbsp plant protein of choice
200 ml coconut water
blueberries, raspberries & bee pollen for toppings
Place all the ingredients, except for the toppings in your blender and blend until smooth. Serve your smoothie in a glass or a bowl and add the blueberries, raspberries and bee pollen for sensual delights!