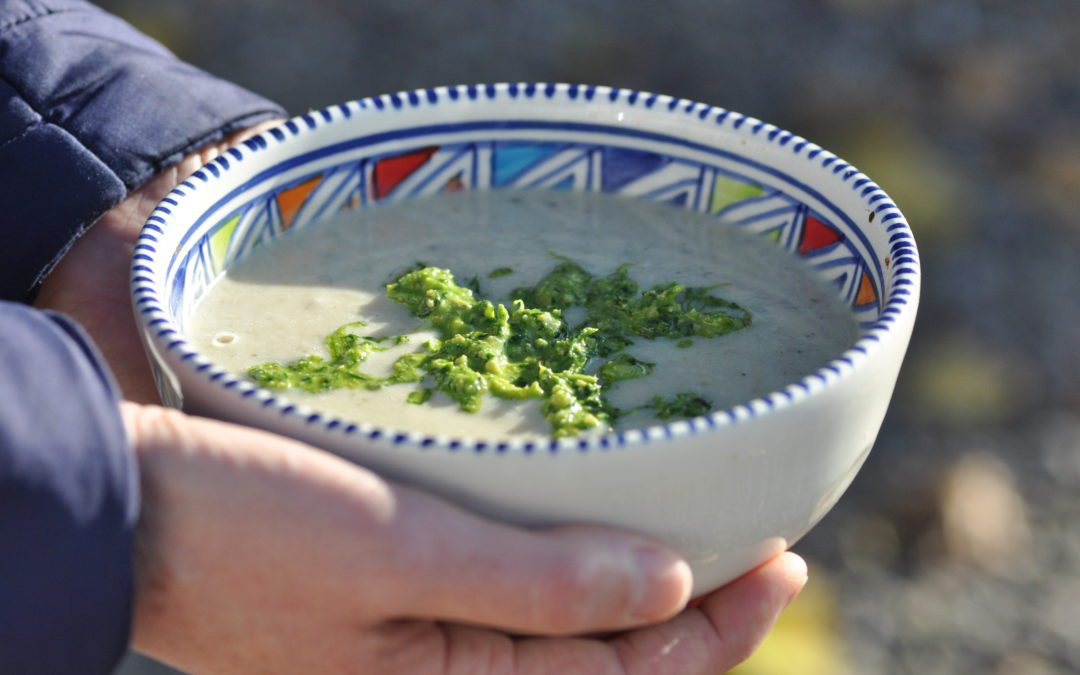 I feel like February is a kind of threshold month. Neither here nor there. Some faint promises of Spring, yet Winter is not ready to lose it's grip…
This time of the year, eating fresh foods, grown locally can be particularly challenging since not much grows this time of year. And wallets and bank accounts might feel equally barren, still be suffering from the aftermath of Christmas shopping sprees. Whether it is the end of the season, the end of the month or the end of the week, if money is tight feeding oneself well can be difficult. But…! If you know how to cobble a few store cupboard ingredients together, your body nor your tastebuds need not suffer.
This soup recipe sprung initially out of my desire and love of colour, to see if it would be possible to create a white creamy soup, without actual cream.
As you (may) know, white foods are often vilified as detrimental to our health and wellbeing.
Why? Because many "white" foods are the heavily processed ones, heavily refined where all the nutrients and fibre have been stripped off, and what's left is a simple carbohydrate structure which is easily converted to glucose by the body. In the nutrition community we often call these foods "empty calories" since they don't contribute any nutrition in form of vitamins, minerals, phytonutrients or often neither good quality fats nor protein. Whereas vegetables gets the label "nutrient dense", for (perhaps) obvious reasons.
So though it may be wise to limit your intake of highly refined and processed white foods, it may be equally wise to turn your attention to those in the plant kingdom that are naturally white, as they all provide health benefits in many various ways.
For this soup recipe I went with white beans, garlic, onion (yellow/white) and some cashew nuts. But of course there are other white gems, such as cauliflower (which is extremely versatile) and root veg such as celeriac and parsnips.
The cashew nuts and the beans, give this soup a really smooth and creamy texture. And as well as that, both are a good source of plant based protein. Which makes this soup lovely and filling. Oh and when it comes to store cupboard ingredients, as well as budget, keeping a few tins of beans + onion and garlic is definitely to be recommended for ease of creating simple, quick, versatile, nourishing and tasty meals that won't cost the earth. I do admit that cashew nuts may not be the cheapest but if you are on a very tight budget, blanched almonds could work too, just make sure that you soak them for a few hours before throwing them into the saucepan.
I used fresh herbs here as we have some growing, but I can't think of why dried ones wouldn't work equally well.
White Bean Soup with Cashews
Serves 2 (Double the recipe if you are making it for a larger crowed)
1 tin of Butter Beans, drained & rinsed
1 yellow or white onion, peeled & finely chopped
3 cloves of garlic, peeled & finely chopped
1/2 cup of cashew nuts, preferably soaked for a few hours but it is not vital
4-5 sprigs of fresh rosemary, stems removed & finely chopped (or use 1 tbsp dried herb)
2 bay leaves, fresh or dried
1 tbsp fresh thyme, stems removed (or use 1/2 tbsp dried herb)
Enough vegetable stock to cover ingredient about 1/2 inch
Sea salt & Black pepper, to season
Heat a large saucepan and add a splash of olive oil. Add the chopped onion and reduce heat to avoid burning. Gently sweat the onion until translucent and then add the garlic and stir for a minute.
Add the drained and rinsed white beans, all the herbs, the stock and the cashew nuts. Bring the soup to a boil and then reduce to a gentle simmer.
Cook with a lid on for about 15 min. Remove pan from the stove top and allow it to cool down. Before blending remove the two bay leaves. Then blend until smooth.
Serve.