I'm so delighted to have the opportunity to share this beautiful immune boosting and vibrant smoothie recipe. Just what is needed as we slowly transition into the next season. I'm sure we can all do with a little more colour and sunshine in our lives. And if the Sun prevails, you just have to get a little more inventive in the kitchen instead.
This week I have invited the beautifully talented lady Agnes who blogs about food and stuff over on Cashew-Kitchen. If you are not following Agnes on Instagram or reading her blog, you should. It's worth it for the photos alone 🙂
But I'll let you Agnes tell you all a little more about herself.
Hi Agnes! Can you tell us something about yourself and your work?
Sure! My name is Agnes and I live in a small apartment in central Stockholm (Sweden) which is also my hometown. I recently moved back here after spending a couple of years on the west coast studying. Since september last year I'm running the food & photography blog Cashew Kitchen, although I've been food blogging since the spring of 2013. I also do some photography and recipe development on a freelancing basis. But my main occupation is my studies in Human Ecology in which I'm currently writing my bachelor thesis. I started my studies in Human Ecology and my food blogging about the same time, so initially it was an interest in sustainable food and lifestyles that pushed me. I've been hanging out in the kitchen experimenting since I first became a vegetarian  when I was 14, so the interest in wholesome, nourshing food has always been there I guess, I just never thought about blogging about it before 🙂
I have a background in Fine Arts, so when starting blogging about food I quickly noticed that working with the aesthetic aspects came pretty natural to me. Using colorful ingredients and spending a lot of effort on the styling and photography is very important to me, so when I launched Cashew Kitchen I simply decided to call it "a foodie photography blog". Although the sustainable aspects are still there: I only post vegetarian recipes and I mostly use seasonal, whole and organic ingredients.
No wonder you can great the most magical of images!
I'm curious about that education of your: what is Human Ecology? And how do you wish to use that education in the future?
Well, you could say it is environmental science from a social sciences' perspective. In Human Ecology we study the relationship between social, ecological and economic factors and how those interact with for example issues of power, resource management, poverty, urban development, climate change, population growth and social dynamics. It's everything from city planning and food production to eco philosophy or complex adaptive systems.
In my thesis I study possibilities and limitations for citizen participation and co-management in city planning to help build social resilience in society. When I decided on the topic I think I was a bit tired of food haha. It was in the aftermath of the Swedish election and the increased social unstability we see here in Sweden (and out in the world too) worried me. In the future I want to work with sustainable food in some way. It could be inspiring people to make sustainable food choices, which I kind of already do through my blog (I hope!) hehe. It could also be working for a food or agriculture company with sustainable development issues. The possibilities are endless, really! I just know my passion is food, happy people and a healthy planet 🙂
How would you describe your food philosophy?
I want it to be simple! My aim is to inspire as many people as I can to incorporate more vegetarian or vegan food into their diets and cook more from scratch using seasonal ingredients, and thereby bringing us one step closer to living environmentally friendly lifestyles. Therefore I don't believe in using too many obscure and expensive ingredients, or create difficult or fancy recipes. My recipes often consist of just a few, simple ingredients and are usually quick to assemble. I want to show that it can be both wholesome, fun and easy to eat seasonal and vegetarian. Also fresh produce or a lovingly cooked meal can really make my heart melt! It's everything I need to be happy. That simplicity and appreciation of food is something I want to share with others.
Couldn't agree with you more.
How did you come up with the name Cashew Kitchen?
Um, I was just playing around with different names that sounded "catchy" haha. I always have cashew nuts at home and love to use them in raw desserts, granola, smoothies etc. so it felt suitable with a name steaming from one of my favorite ingredients 🙂
How does your process from idea to finished recipe and blog post look like?
Sometimes a get an idea from surfing around the food blogosphere or pinterest that I write down on my little list. It can be anything really that triggers the idea to a recipe – a combination of colors, a long forgotten ingredient, a memory. But more often I find myself standing in front of an half empty fridge trying to think of something I can make out of the little I have. Honestly that's where the best recipes come from! If I just happened to create something utterly delicious I try to photograph it right away if I have the time, but mostly I plan to cook/prepare the night before and then style & shoot the next day. Quite often I have tried the recipe a couple of times by then. Editing photos I do on my spare time in the evenings. I never plan what I'm gonna write about on the blog, I just write what pops up in my head that particular day.
I love your creativity!!
Which 5 ingredients will one find in your pantry? 
Hehe my pantry is smacked with stuff… In the back you'll probably find some rarely used superfood powders, but what I always need to have at home (besides cashews) are almonds, rolled oats, coconut milk, tahini and bananas. And a thousand more things. Gosh I'm so spoiled with having good food around.
Do you have an all time favorite recipe you keep coming back to? 🙂
I have different favorite recipes in different periods of my life. Right now the only thing I wanna have for breakfast is my Coconut & Vanilla Oatmeal. During weekdays I eat similar salads every day, at the moment with a millet base, random veggies and a honey & dijon mustard dressing I've made countless times!
Tell us something about the recipe you are sharing today! Why this particular recipe?
This recipe is a perfect example of how I roll 😉 It happened the day before pay day and contains literally everything I had left in my fridge that day. I can tell you my expectations for this smoothie wasn't that high, but oh how surprised I was when I tasted it!
I love the creativity that comes from restrictions. You don't really need to have a perfectly stocked pantry to make delicious food. I hate to throw away food and always save the little bits and pieces left to use for something else. Smoothies is a great way to use up that last squeeze in the yoghurt package or half a frozen banana from the freezer.
I make smoothies almost every day to drink in between meals, and I especially like to add some seeds or grains and something fat like coconut milk or yoghurt to make it more filling and long lasting.
Despite citruses typically are winter ingredients, to me this is a recipe flirting with spring 🙂 I even added birch straws, see! As if the weather gods heard my plea when photographing this recipe, the sun came out from the clouds just long enough for me to catch it.
For this recipe I used yoghurt, but you can easily make a vegan version using coconut milk + a little extra lemon juice.

Sunny Buckwheat Smoothie

Serves one
Preparations:
2 tbsp raw buckwheat groats
water to cover
***soak for minimum 1 hour***
To mix:
1 large orange or 2 small
1 small banana
1/4 lemon
1 inch piece of fresh ginger
1/2 cup natural yoghurt
2 small pitted dates or 1 medjool date
1/2 tsp turmeric powder
water until desired consistency
+ the soaked and rinsed buckwheat
Prepare by soaking the buckwheat in lukewarm water for minimum one hour. This can be done the night before or in the morning. You soak the groats to get rid of harmful enzymes and start a sprouting process for optimal digestion and nutritional content.
Rinse buckwheat thoroughly. Drain and set aside.
Peel orange and lemon with a knife. Try to get rid of as much of the white parts as possible (it's bitter). Remove any seeds. Peel ginger and coarsely chop.
Put orange, a quarter of the lemon, banana, ginger, buckwheat, yoghurt, dates and turmeric powder in a high speed blender and mix until completely smooth. Add water if nessecary. If you have a not so strong mixer or an immersion blender you might wanna squeeze out the juice of the orange and lemon beforehand, grate the ginger and perhaps soak the dates if they're dried.
Serve right away with seeds, berries, granola or simply with a (birch) straw!
Thank you so much Agnes for sharing this beautiful recipe with us here at Straightforward Nutrition! I sure know what I'll have for breakfast next week 🙂
If you want to check out the Millet & Linseeds Porridge which I shared on Cashew-Kitchen click here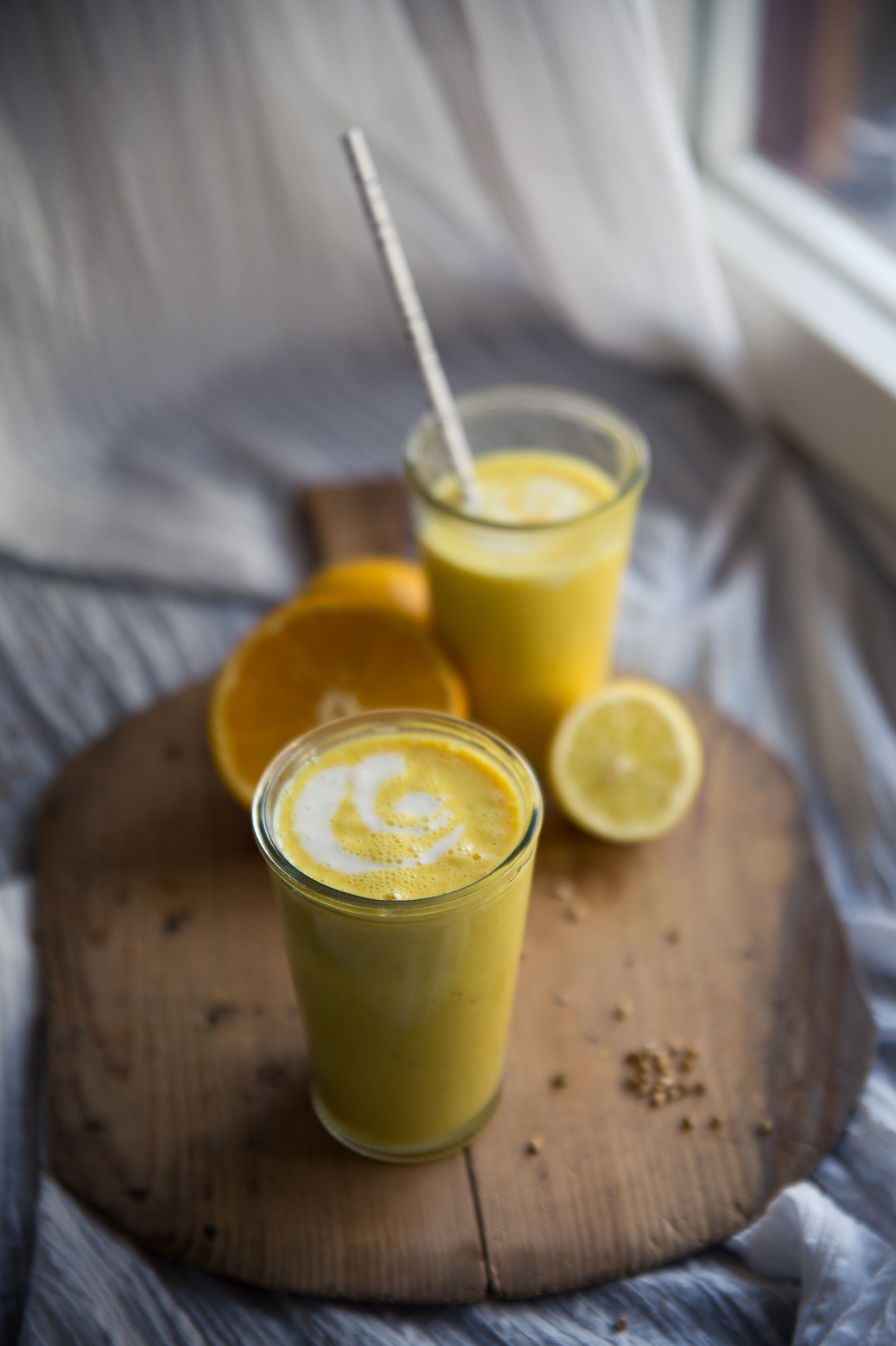 *All photographs on this post is by Cashew-Kitchen.