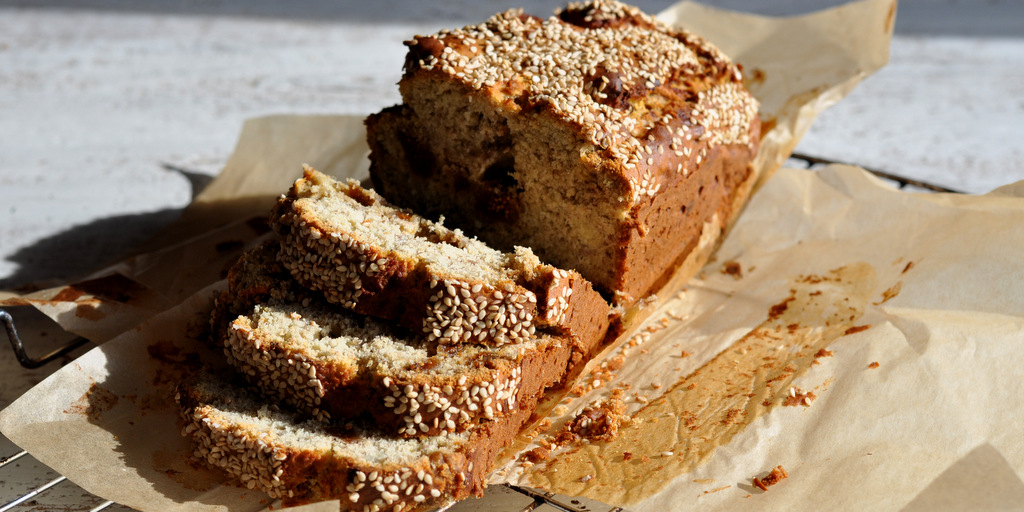 The start of a new month! Spring is almost palpable. How are those New Year's resolutions coming along? I hope you haven't given up already… One of my resolutions is to start using my (rather large) collection of cookbooks a little more. So I'm going to kick off this year with a delicious gluten free banana bread from one of my favourite books I bought last year.
I have a thing for books. It goes back years. I used to be a library junkie as a child taking bags of them home to read with each visit. Most of the time the stories would have contained horses in some for or another. These days what entices me the most is cookbooks. Thing is, getting a cookbook from the library just doesn't cut it as you have to return it sooner or later. I want have my cookbooks to hand at all times so I can pull one out when ever I need a little inspiration.
A good sign of a well treasured cookbook is one with a few crinkled pages, some stains and a couple of rough edges. I mean it's not there to be sat on a shelf gathering dust, it's there to be used and help you whip up delicious meals in your kitchen, when ever you need a helping hand.
To be honest I'm not sure how many cookbooks I actually own. I'm afraid to count and there's always yet another one added to the Amazon wish list… When I first started buying cookbooks the purpose was just for general use, and I used to pick books with a variety of recipes.
I've always been drawn to ones with short listings of wholefood ingredients and pictures. In recent times the quality of the photography has taken even more center stage. I just love the book as a whole to be esthetic and pleasing to the eye. In a sense this is a little ridiculous as you may end up missing out on some amazing books with fantastic recipes, which just doesn't have a lot of images. Though  I have found that the more experience I get using a variety of ingredients, the better I have become at reading a recipe and can often get an idea if I'm going to like a dish or not, based on reading the ingredients list. What kind of cookbooks do you prefer? Would you care to share one of your favourites?
This lovely and moist gluten free banana bread is from the lovely Emma Galloway's first book My Darling Lemon Thyme 
I've been a fan of her blog for sometime but I absolutely LOVE her book. I love every thing about it. The broad variation of recipes, the useful cooking hints & tips, the layout and most of all Emma's beautiful writing and and photographs. I have cooked lots of things from her book but this banana bread is by far one of my favourites and I have made it many times. It's an easy recipe with not too many ingredients and it is one that make for (almost) guaranteed gluten free baking success!
I often just read the list of ingredients and look at the image when I try to re-create a recipe from a book but with baking you'll never get away with that. And even less so with gluten free baking. I love baking and for me it's one of my preferred ways of de-stressing. But I'm far from an expert at it. Particularly when it comes to recipe creating. That's why I prefer relying on someone elses successful recipes.
I have only made two tiny tweaks to Emma's original recipe. I tried and tested it with dried figs, rather than dates and I usually put sesame seeds on top of my loaf instead of the seed she is using. But other than that, I've pretty much stuck to how it is in the book. Make sure you also use a nice fruity olive oil. I tried with cold pressed rapeseed oils, but the bread didn't turn out half as tasty.
I also love that the sweetness in this bread comes entirely from sources which are naturally found in nature without the need for processing.
Gluten Free Banana Bread – From My Darling Lemon Thyme
Makes one standard loaf
1 cup of dried figs, stems removed & roughly chopped
1 tsp of baking soda
3 large over ripe bananas, peeled and mashed
1/2 cup olive oil
2 tbsp pure maple syrup
2 eggs, preferably organic, lightly beaten
1 tsp vanilla extract or vanilla powder
grated zest of one lemon
1 1/2 cups (21g) fine brown rice flour – I usually weigh it out
1/2 cup (80g) potato starch – I usually weigh it out
2 tsp gluten free baking powder
a pinch of sea salt
a few tbsp sesame seeds, to sprinkle
Preheat your oven to 180C. Line your loaf tin with parchment paper.
Start by placing chopped figs and baking soda in a small bowl. Add 2 tbsp boiling water and stir well. Set aside.
In a large bowl combine mashed bananas, olive oil, beaten eggs, maple syrup, vanilla and lemon zest. Whisk the mix until smooth. Then carefully sift in rice flour, potato starch, baking powder and a pinch pf salt into the wet mix.
Stir until the flour and the wet mix is combined and then add in the figs and any remaining liquid from them. Stir the batter to disperse the figs evenly. Pour the batter into you lined loaf tin. Sprinkle sesame seeds on top.
Bake for an hour or until a skewer comes out clean. Remove from the oven and allow to cool for 5-10 min before taking it out of the tin. Allow to cool completely on a wire rack before cutting in (the hard part). If you try to short cut this final step your banana bread will just crumble up. So refrain from the temptation and exercise patience.
Enjoy a slice, or two with your favourite beverage. The loaf will keep for a few days, stores in an airtight container. Apparently it will freeze well if cut in thick slices, too. However I can't vouch for this as none of mine ever made it that far…