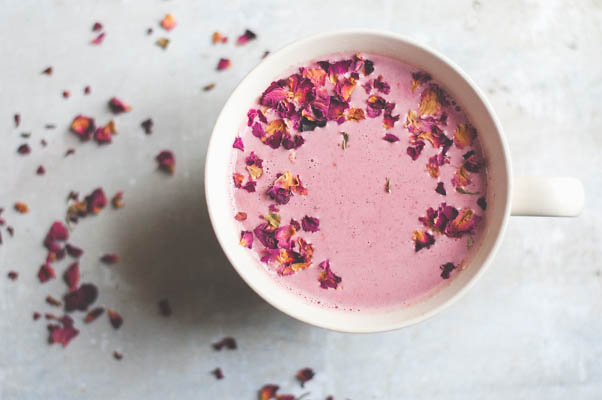 Normally I post new blogs on Sunday afternoon, but with this recent spell of snow(!) and winter weather I decided that I might as well post this as I write it.
And after a little hiatus I posted this blog earlier this week, so there you go. I know I'm not the greatest at consistency. I think variety is more my style.
Anyhow, with this recent weather though I was lucky and did not experience the full brunt of Storm Emma, (also known as the Beast from the East), I did end up stuck at home for two days which meant lots of hot drinks, blazing fires and plenty of time to work on the computer…
Whilst contemplating if I should dress up and take the 5 min walk to the shop or if I should in fact stay put, finish writing this blog post and then chill with a cup of this pink beauty and the latest book I am reading in front of the fire, the rain is slowly melting the snow outside.
It was definitely beautiful whilst lasting and reminded me of winters growing up back in Sweden. Yet I am so ready for Spring now!
Ready for longer brighter days, ready to prepare some raised beds and order some vegetable seeds and ready for a new season to arrive.
While you are waiting though, enjoy this warming drink and there are a good few new recipes lined up, coming your way over the coming weeks. More warming dishes to enjoy, whilst we are waiting and contemplating.
I got the idea for this Beetroot Latte from Instagram. Because giving proper attribute to the original creator is important and the right thing to do, I went back searching for whom I might have gotten it from, but when I typed in #beetrootlatte I got like 9000 hits! So maybe this isn't a truly original idea after all…
Since I am such a cardamom fan, I loved cardamom added here. If that's not your cup of tea (pardon the pun) then you could try another variation that I made some time ago which was a hot chocolate type drink, with some beetroot powder + a pinch of chili.
Dried beetroot powder is available in health food shops. It is kind of sweet and a great way to colour foods naturally.
Beetroot Latte
Serves 1
1 cup of plant milk of choice (measure the milk out with the cup you intend to drink from)
½ tsp dried beetroot powder
½ tbsp. sweetener of choice – I like honey or maple
¼ tsp ground cardamom
Add milk and the rest of the ingredients to a small heavy based saucepan. Gently heat your drink whilst whisking all the ingredient together. Just before reaching boiling point remove from heat and serve.
If you want to pretty it up you can add some edible dried rose petals!
P.S I have *finally* signed up to Lightroom and started to play around with presets (kind of like filters). Please bear with me a as I am learning this new creative skill!