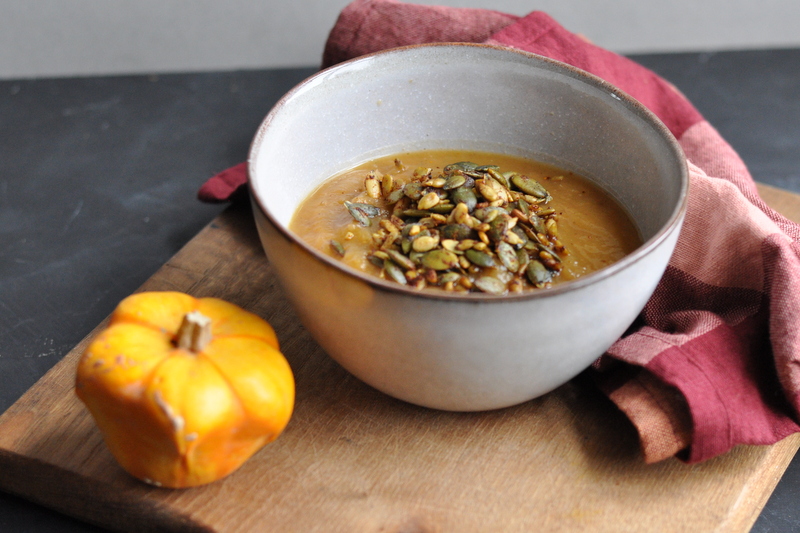 Halloween has just been (and the Christmas decorations are already appearing around the place!) but for all my U.S friends Thanksgiving is just around the corner. So I suppose it is still pumpkin season.
I was contemplating the other day how nature seem to have provided us with a natural harmony of flavour pairings. It seems like many foods that are in season at the same time, go well together.
Like apple and blackberries, or apples and pumpkins. Or hazelnuts and mushrooms. Each season has its own charm, yet there's something so comforting about the foods that comes with this time of the year. I don't know about you but I naturally yearn for more stodgy food when the weather gets colder. Spicy soups, roasted root vegetables, strews. Less salads more strifries. That kind of thing.
I think I read somewhere you need to live a full year somewhere, through all the seasons, before you are fully rooted in your new environment. Not sure where I read it, but regardless, it has been my lived experience. Would you agree?
There are more seasonal recipe ideas to share, like an apple and blackberry crumble I have made on repeat lately, but have yet to photograph, a purple salad and maybe this year my own version of a mushroom soup, will make it here too.
Until then, I hope you will enjoy this pumpkin soup recipe!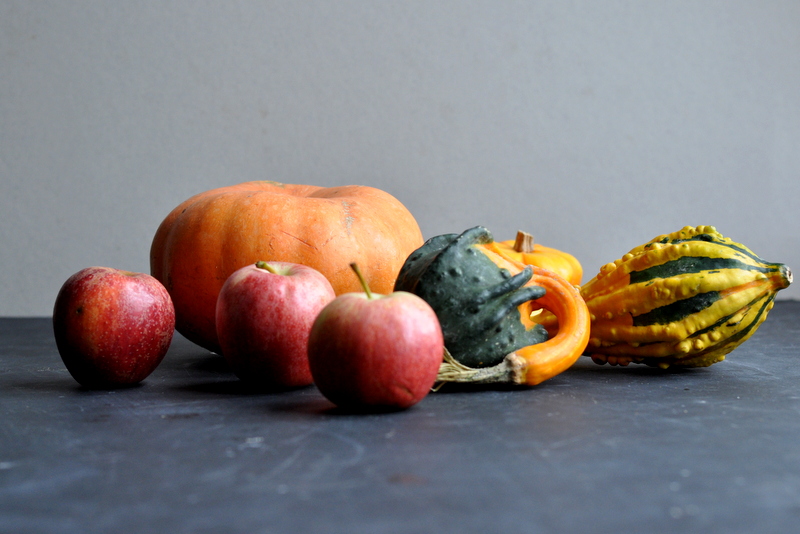 Apple & Pumpkin Soup
Serves 4
1 Hokkaido Pumpkin (Butternut Squash could work well too)
4 small or 2 big eating apples
1 yellow onion
2 cloves of garlic
1 tsp cumin, ground
½ tsp smoked paprika
½ tsp cinnamon
½ pinch of ground cloves
Approx. 1 litre stock
Sea salt & Black pepper to season
2 tbsp red wine vinegar
Heat oven to 200˚C. Make a few cuts in the whole pumpkin and then on a baking tray and roast for about 2h, until soft. Doing it this way, I've found make much less work than trying to wrestle with it in its uncooked state.
Once cooked and soft, set aside to cool. Once the pumpkin has cooled down, remove skin and seeds and roughly chop.
Chop onion, garlic and the apple into small pieces.
Heat a heavy based pan, add some olive oil. Then add garlic and onion and sauté until soft and translucent.
Add spices and fry off at a low heat for 1-2 min until fragrant. Add the apple pieces and the pumpkin pieces. Add the stock.
Bring to a lively simmer and cook for about 30min until the apple is soft.  Let the soup cool somewhat, add the red wine vinegar and then blend until smooth.
Season to taste. Add more liquid if you find the consistency too thick.