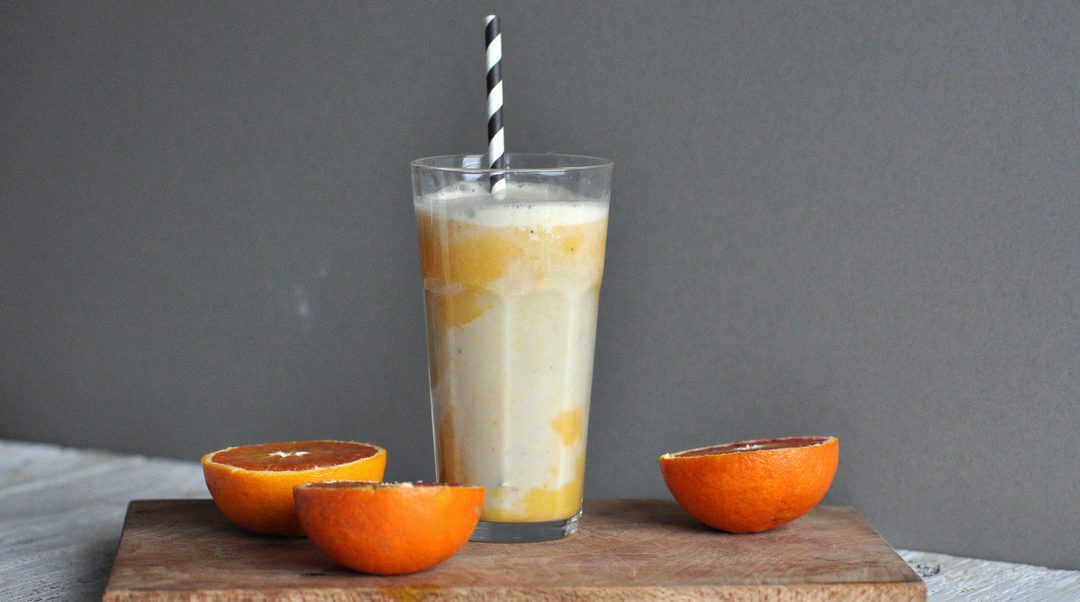 I'm going to continue on with the smoothie them for a little longer. Because I like smoothies. And I also have a nutribullet which I love using on a regular basis. I know, I know, smoothies are for the summer you say or for at least when the weather get warmer. Fair enough. But I happen to like having them all year round…
Since citrus season is almost over, I think I bough myself the last blood oranges for some time to come the other day. It's kind of funny as I love eating oranges during the colder months but I very rarely buy them at other times of the year. Same with red cabbage for example.
So if you have a few oranges still knocking around in your fruit basket then here's a cool way to use them up!
In this recipe I've paired my orange smoothie part with some sesame milk. As you can see I didn't blend them together but went for a marble effect instead. Doesn't it look cool? Making your own nut or seed milk is actually ridiculously easy. Every time I do make some I ask myself why I don't do it more often. One thing to remember though is that since your own homemade milk, will contain no preservatives or emulsifiers it will separate and also it will only keep for 2-3 days so make sure you don't make to much each time.
As a change from the usual nut milk, here you have a seed milk. This dairy free alternative is suitable for those who cannot tolerate nuts. Sesame seeds are also a great source of calcium so it makes a good substitute. Though the flavour is very different to cow's milk. Obviously.
I'm a little bit behind on the blogging at the moment, but trust me it's not for the lack of inspiration. I have lots of recipes and ideas I would like to share with you all. It's just time… There's been a couple of projects taking up some time recently and that's why I didn't manage to get this post out to last week.
One of them was the recent release of my Smoothie Ebook and if you haven't grabbed your copy yet then feel free to do so now! It will be a nice follow on from this recipe and the lovely sunshine smoothie Agnes shared with us last month too. The other think, which you may have noticed it the addition of a video and a subtle change in layout, banner & footers. I hope you like it as much as I do. It was necessary as my business growing and evolving.
I hope you are enjoying your Easter weekend so far and if you feel like you need to balance your chocolate intake a little, then here's a simple way to do it.
Citrus Sesame Smoothie
Serves 1
1 cup sesame milk (see recipe below)
1/2 banana – fresh or frozen (frozen will give you a creamier texture)
1/2 fresh mango, peeled & chopped
1 blood orange, peeled – or use a normal one if you can't get any blood oranges.
First blend the sesame milk with the banana. Once you have a creamy mixture, pour it into your serving glass. Rinse your blender and then blend mango and orange until you have a smooth puree.
Add the orange-mango mix to the sesame part and watch the marble effect unfold.
Enjoy immediately.
Sesame "Milk"
Makes approx 4 cups ( 1000 ml)
2 cups sesame seeds, soaked for minimum of 4h & then rinsed
4 cups of filtered water
2 tbs raw honey or maple syrup
pinch of salt
Soak your sesame seeds in plenty of water, preferably overnight. Once the soaking time is up, drain & rinse them again. Discard the soaking water.
Blend the soaked seeds with the filtered water. You may have to do it in batches if you have a small blender like me. Once blended, strain your seed-water mix through a piece if muslin / cheese cloth or use a nut milk bag if you have one. Discard the pulp. Ideally in a compost.
Blend your "milk" with some honey and a pinch of salt. Done! Store in a glass container in the fridge. As I mentioned above, it will separate so give it a shake before every time you use it. Your sesame milk will keep about three days in the fridge. You'll now when it's gone off as it will be sour.