This recipe has sat in the draft section for some time. Turns out posting it now, is good timing still, because it could easily work as a nutritious addition to your menu over the holiday season.
You may have heard of chia puddings by now. You may even be a big fan of them. If you haven't you are missing out of one of the easiest, nutritious snack/dessert /breakfast ever! I remember a few years ago when these tiny little seeds appeared on the shelves in the health stores and no one had really heard of them, let alone knew what to do with them… These days they are big news! Turns out they are a good source of plant based omega 3 essential fats. They are also high in fibre, potassium, zinc, calcium and phosphorus.
The seeds come from a desert plant, Salvia Hispanica, grown in Mexico and these tiny super seeds apparently featured on the menu of the famous Aztec warriors. In fact the word "Chia" supposedly means strength. When they first appeared this side of the world one of the many marketing claims was how it could help with weight loss.  This may be true in some sense, but of course it's highly unlikely that it would help anyone shed pounds all on its own. Weight loss is a lot more complex than just take one magic substance, unfortunately and  the sooner we stop buying in to that concept the better (But that's a topic for another day…)
I think in those early days, no one really had any clue how to eat them or how to make them taste nice. Thing is they swell a lot in any liquid you leave them in, and when they do, turns out they don't look all that appetizing… The very first time I tried chia seeds it was a tsp of seeds soaked in plain water, just swallowed down. Not the most exciting thing I've ever eaten to be honest. Obviously times has moved on – enter Chia Pudding! I'm not sure who originally came up with the bright idea of serving the little guys this way but let's just say it's genius! Their ability to gel makes for a nice consistency and when you eat them in this way they can actually help with constipation rather than hinder it.
I have tried lots of different types of chia puddings at this stage but using a good quality full fat coconut milk is by far my favourite. It even reminds me a little of the Christmas dessert we have back home, rice pudding, well actually more like the cold version of rice pudding; Ris á la Malta.
Here you have a slightly healthier version made with just two ingredients: Chia Seeds and Coconut Milk. I've chosen to top this pudding with some winter spiced berries. Here I used the blackberries we picked back in the autumn. Grateful for the abundance back then and for the freezer now! If you, like me, live in the Northern Hemisphere where berries are not in season, then use frozen ones. I'd imagine blackcurrants or blueberries could work to. And if you live some where were it's berry season, well then make the most of it and use fresh ones!
Coconut Chia Pudding – With Winter Spiced Berries
Serves 2
For the chia pudding:
200 ml full fat coconut milk – organic if possible
2 tbsp chia seeds (whole seeds)
For the berry compote:
1 cup blackberries – fresh or frozen
1 tsp of ground cinnamon
1-2 star anise (depending on size of the star)
1 tbsp pure maple syrup
To make the pudding; mix coconut milk and chia seeds together in a small bowl. Make sure it is well mixed together and stir a few more times over the next five min, to remove any lumps, as the seeds start to absorb the liquid. Then move to the fridge and let it set over a few hours.
To make the berry compote; place the frozen (or fresh) berries in a small sauce pan. Add in maple syrup, ground cinnamon. Gently toss the berries in the maple syrup and spices until evenly coated. Add in the star anise. Bring it slowly to a simmer and let it simmer away for about 10 min until fruit is soft and the compote is fragrant.
Serve the chia pudding in small bowls with topped with the warm spiced berry compote.
N.B This dessert (or even breakfast!) is very filling and not very sweet. You can omit the maple syrup if you are looking for an even lower carbohydrate load.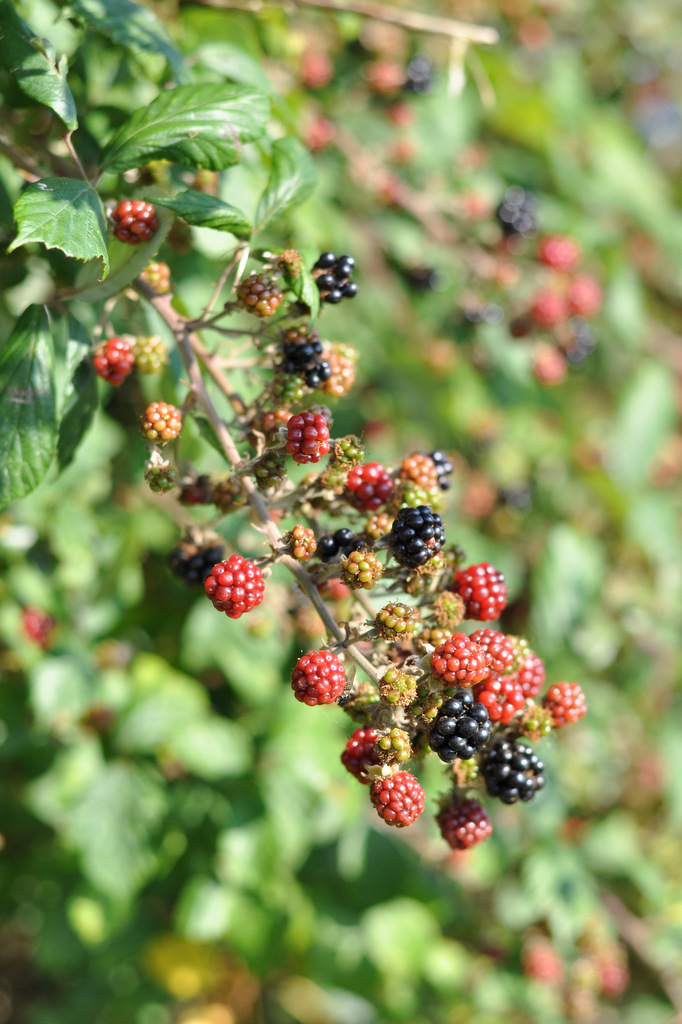 P.S. I hope you don't mind me throwing in a picture from the beautiful autumn we had. Worth a reminder of brighter days to come as the longest day of the year fast approaches.