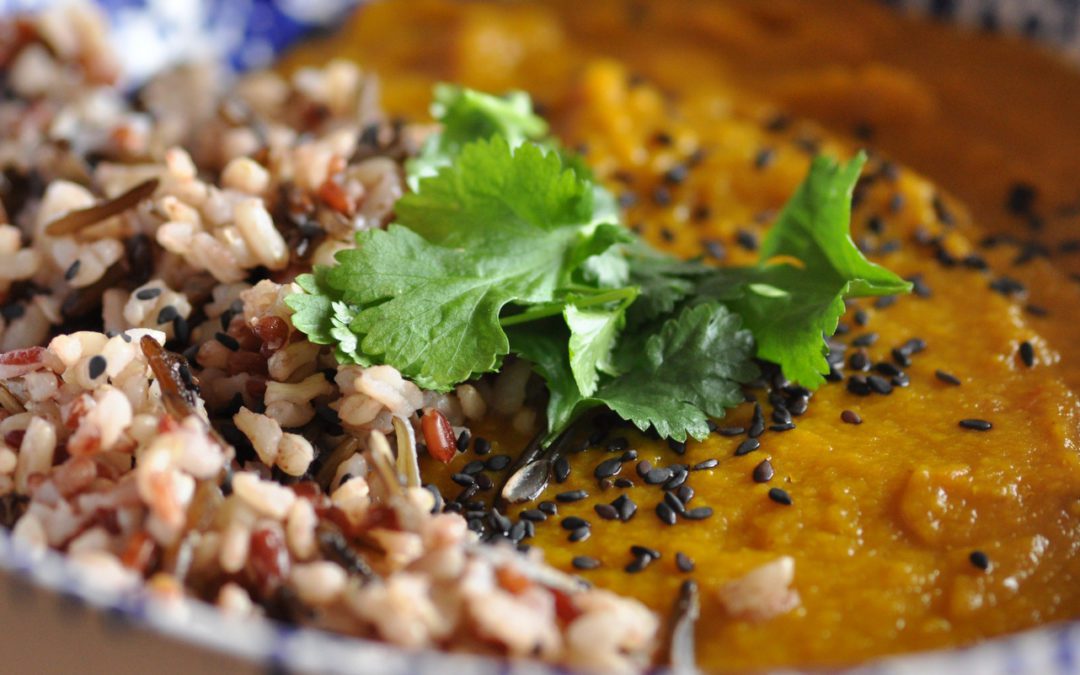 Let's finish the year off with a bang! Following on from the last post about the FLOW, and the winter theme AND the soup theme, here is one filling spicy Dahl to keep you warm. Hopefully you've had enough of Christmas cake, minced pies, mulled wine, ham, turkey, nut roast and / or rice pudding at this stage. My body always calls me back to fresh, wholesome food if I stray to far. Whether it is by choice or because my healthy food intake has been due to limited option, which can easily happens when we either travel, eat out or are away from home for any other reason.
It's like when you've lived on mostly fresh unprocessed foods for a long time your body is so use to it and you will notice how different you feel when you don't. These days I don't tend to stress too much about if I have to eat something, I'd rather not because I have no other option. I either try to plan to eat well as much as I can before or after, or make the best choice I can. Stressing about the food itself can bring its own problems as the body cannot distinguish  what is registered as stress by the hypothalamus. The physiological response is the same.  So I try to be gentle with myself instead.
Thing is though, my tastebuds have become rather snobbish (!) And I no longer enjoy eating certain things, especially if any negative physical reactions may follow and I don't even get to have a fully satisfactory eating experience to make it worth my while! Have you noticed anything similar? I remember a client of  mine who used to have a diet high in sugar, especially a lot of soft drinks, telling me that once she cut them out and reduced sugar elsewhere she started to taste food so much better. This is really interesting and may be due to a number of reasons. One for starters may because sugar is such a dominating flavour and we have many taste receptors for sugar on our tongue. So if we eat a lot of sugar on a regular basis our tastebuds kind of become "flattened". Same goes for if you cut down or even out refined sugar for a few weeks. All of a sudden everything is so much more sweet tasting. Less becomes more.
Even when I didn't eat a predominately wholefoods diet, red lentils was always part of it. I think it's because I grew up with a mum who was a vegetarian so I was introduced to them at an early age. I know not everybody tolerate legumes and lentil well, but if you do, keeping red lentils as a cupboard staple in your house is seriously handy as it means you can whip something nourishing and filling in a short space of time. This favourite ingredient of mine has featured in two soups here already. Like this Swedish Lentil Soup. And this Classic Lentil Soup (which I often make when I'm seriously stuck for time and / or ingredients!)
Though not technically a soup, I've decided to still include this Dahl in my soup series. Sure why not? It fits with the winter and the orange theme at least 😉
One of my New Year's resolutions for 2015 was to cook more from the cookbooks I already have. And I already have a lot of them… So even though I have my eyes set on a few which are coming out next year, I still need to get back to using some of the ones already gracing my shelves. This Winter Spiced Dahl is an inspiration from the beautiful cookbook A Modern Way to Cook, by Anna Jones. It's a great vegetarian cookbook which will also work well for those who do eat meat but are looking for tasty ways to increase their vegetable intake. What I really love about this book is not only that the recipe are varied but also that Anna has included some really great charts on how to make up your own combinations with vegetables, nuts, grain, pulses and spices. I LOVE that way of cooking and sometimes when you're not feeling all that kind of imaginative a chart like that is just what you need. Or when you have a fairly well stocked pantry but are left with some random fresh ingredients and you don't know how to make them match… Kind of like a wardrobe malfunction. Then it's so handy to have someone with way more insight than you suggesting some great pairings.
I've pretty much stuck to Anna's recipe except for the addition of red lentils and the substitute of butternut squash for carrots, so it's a full on orange theme going on here. Perfect for FLOW 🙂 This Dahl also contain a plethora of warming spices, perfect for this time of the year. I particularly like the addition of cardamom, which I love in almost anything. Sweet or savory or in tea. It's almost borderline obsession. Hmm, maybe my body is trying to tell me something? Anyway, here is the recipe.
Wishing you a Beautiful and Loving New Year. Let's start 2016 with a beautiful winter warmer!
Winter Spiced Lentil Dahl
 Serves 4
4 large carrots, washed, peeled & finely chopped
1 red onion or one leek, peeled (wash the leek) & finely chopped
1 inch fresh ginger, peeled & finely chopped
3 garlic cloves, peeled, smashed & finely chopped
1/4 cup dried red lentil, well rinsed
1 small or 1/2 large sweet potato, washed, peeled & chopped into cubes
2 star anise
6 cardamom pods, shell discarded & seeds ground – Or use 1/2 tsp ground cardamom
1 tsp coriander seeds, finely ground
1 tsp turmeric
Sea salt & Black pepper to season
500 ml vegetable stock + more if too thick
Start with adding a bit of olive oil to a warm saucepan (heating the pan first prevents the oil from getting too hot and going rancid) Add the chopped onion / leek, garlic and ginger and saute for a few minutes and till soft and transparent. Then add in the spices (except the star anise) and continue to stir for a few minutes over low heat until fragrant.
Add in the carrots, sweet potato and lentils and coat in the spice-onion mix. Add in the vegetable stock and the star anise. Bring to a boil and thereafter reduce to a simmer. Simmer for 35-40 min until lentils are falling apart and the carrot and sweet potato is soft. Add more stock if necessary, but remember this is a Dahl so you want it to be thick. 
Once the all the vegetables and lentil are cooked through remove from the heat and when the Dahl has cooled a little give it a whizz with your hand blender. Feel free to leave it a little chunky if you wish and prefer that type texture.
Serve with cooked rice, a few fresh coriander leaves and sprinkle some seeds on top. I've used black sesame seeds here.
Recipe inspired by Anna Jones' book A Modern Way to Cook.
What is your favourite way to enjoy red lentils? Please share below 🙂